Looks like you're interested in coming to Unpub 9! Thanks for taking the time to come out and enjoy the biggest weekend in tabletop prototype gaming! Here's a quick guide detailing everything that'll get you ready for the biggest and best Unpub yet!
When is it again?
March 21st – 24th | Unpub opens to the public on March 22nd
If you're a designer, volunteer, VIP Playtester, vendor, or publisher, be sure to arrive after 12 noon on Thursday, March 21st to take advantage of our panels, workshops, mixer, and everybody's favorite quasi-reality-based-game-thing, the returning and super-fun Feedback Frenzy!
The doors open for playtesters on Friday afternoon, March 22nd at 5pm. We have access to the entire venue and although playtesting ends at 9pm on Friday and Saturday evenings, open gaming will continue into the wee hours of the night.
The last playtest ends at 4pm on Sunday, March 24th. The event, however continues until 10pm on Sunday if you wish to stick around and take advantage of open gaming.
What's on the schedule?
Thursday, March 21
12:00pm – Designer Check-in
2:00pm – Panels and Workshops
6:00pm – Mixer
8:00pm – Open Gaming
9:00pm – Feedback Frenzy
Friday, March 22
10:00am – Designer Check-in
12:00pm – Panels and Workshops
4:00pm – Public Attendees Check-in
5:00pm – Block 1 playtesting
9:00pm – Open Gaming
Saturday, March 23
10:00am – Designer Check-in
12:00pm – Block 1 playtesting
5:00pm – Block 2 playtesting
9:00pm – Open Gaming
Sunday, March 24
10:00am – Designer Check-in
12:00pm – Block 2 playtesting
4:00pm – Open Gaming
10:00pm – Unpub is Donepub.
Tell me about the venue!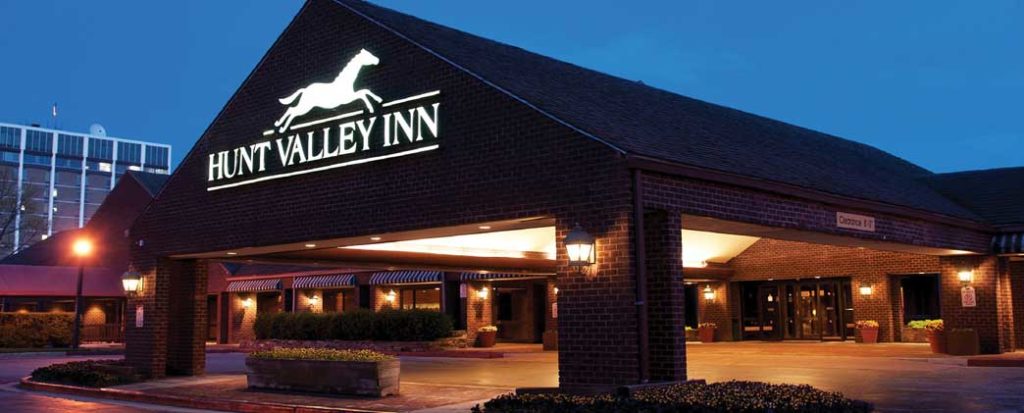 We're at the Delta Hotels Baltimore Hunt Valley again this year, formerly the Hunt Valley Inn, in Hunt Valley, Maryland, a suburb of Baltimore. If you like gaming and you like horses, man, is this the venue for you:
245 Shawan Road
Hunt Valley, MD 21031
It's a popular destination for geeky conventions in the Baltimore area, as they host Shore Leave and FaerieCon annually.
If you think you're going to be having so much fun that you just don't want to go home, hotel room blocks are available for $139.00 a night plus tax. When reserving your room, please make sure to use the block name: Unpublished Games Network. Book at the Delta Hotels Website or by calling 1-888-236-2427 and ask for the Delta in Hunt Valley Maryland and the Unpublished Games Network block.
There's FREE PARKING available on-site.
Complimentary hotel shuttle service is available within a 3 mile radius of the hotel from 6:30am-9pm on Monday-Friday.
The hotel is also accessible to the Light Rail. It's a short, half-mile walk from the Hunt Valley Light Rail stop to the convention:
Is there anything to eat around here?
As you can see above, there are lots of food options in the general area around the hotel. A short walk or VERY short Uber ride away are tons of great restaurants and fast food options:
Texas Roadhouse – Steak, ribs, chicken, and seafood
Outback Steakhouse – Australian themed American cuisine
Carrabbas – Italian-American cuisine (pasta, pizza, chicken, seafood)
Noodles and Co – Pasta, Salads, Soups, Appetizers
Panera Bread – Bakery-café, bagels, baguettes, cold sandwiches, hot panini, salads, soups, coffee and teas
Iron Rooster – Traditional comfort food, breakfast all day, lunch, supper and drinks
Chick-fil-a – Sandwiches, chicken dishes
McDonalds – Hamburgers, chicken, french fries, soft drinks, coffee, breakfast
Burger King – See above
There are also several dining options on-site if you get hungry while gaming all day long and don't feel like leaving the venue:
Cinnamon Tree Restaurant – Guests are invited to enjoy an exciting menu consisting of American classics with contemporary twists, seasonally-driven fare, and traditional Maryland staples. Craft beer, signature cocktails, and a robust wine list complement the menu. (Breakfast and lunch)
Polo Lounge & Bar – Our signature cocktail clubhouse, the Polo Lounge & Bar features a unique cocktail program that is seasonally inspired.
Café 245 – The ideal place to fuel up in the morning with a tasty cup of Starbucks coffee and bite to eat. Enjoy a satisfying breakfast sandwich, crisp salad, or fresh pastry. (Breakfast and lunch)
So, what am I gonna do here?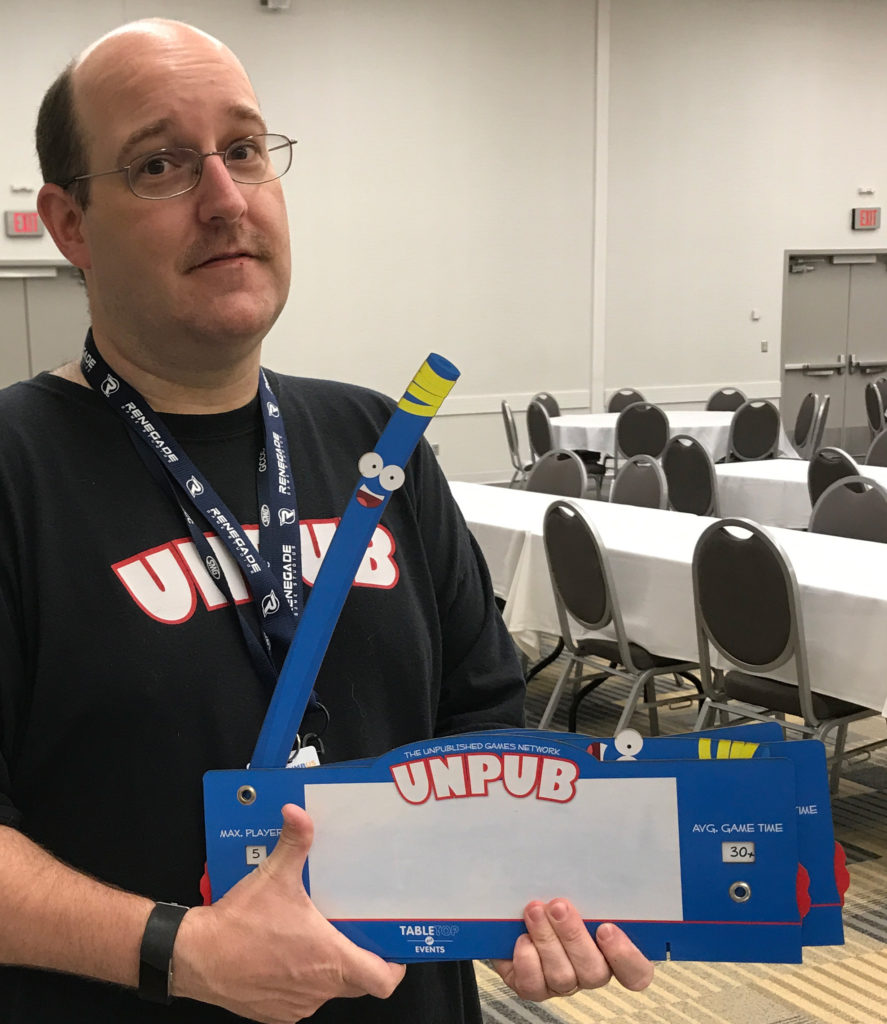 You'll playtest games! What does that mean? Well, during the hours in which our awesome game designers are demoing their games (see schedule above), all you have to do is show up, sit down, play the games, and give feedback! How will you know which games to play? Look for our happy mascot Bludle on each table. If he's standing up, the designer is looking for players. You'll also notice that Bludle will tell you the maximum number of players the game takes, the time it takes to play, and the name of the game. The designers will also be using a system of symbols to indicate the type of games they are demoing, to give playtesters a better idea of what games they might be interested in. There will be handouts on the days of the show detailing what these symbols are, what they mean, and how to use them.
There's no printed program at Unpub 9 this year, we're going digital baby! To find out more about the games, please download the Unpub app currently on iOS and coming soon to Android!
Not only does the app list our great unpublished games, but it also gives you access to the feedback forms you'll use to let the designers know how to improve their games. Feedback is the lifeblood of Unpub. We can keep the event free to the public as long as you're continuing to give us great feedback for the games we bring to you! Also, every feedback form submitted is an entry into raffles for prizes (must be present to win).
If you don't feel like downloading an app, never fear! There will be several feedback stations provided in the main hall that you can use. We know you wanna chance to win a sweet game from our stockpile of donated treasures, and the designers want that delicious feedback. We got you!
Aside from the people who run Unpub, is there going to be anyone unbelievably cool there?
Why, I'm glad you asked! We've got 2 special guests attending this year, who will be participating in Thursday's pre-convention events for designers and VIPs. They'll also be around all weekend playing games and interacting with playtesters and designers alike. Who are they? None other than super-talented game artist Kwanchai Moriya and Restoration Games pioneer Rob Daviau! Kwanchai has done the incredible artwork for games such as Flip Ships, Dinosaur Island, Catacombs, Cryptid, and Overlight. Rob has created several popular games such as Mountains of Madness, Sea Fall, and a little game called Pandemic Legacy. Currently, he's busy with his new venture – taking forgotten classics and updating them into modern tabletop masterpieces!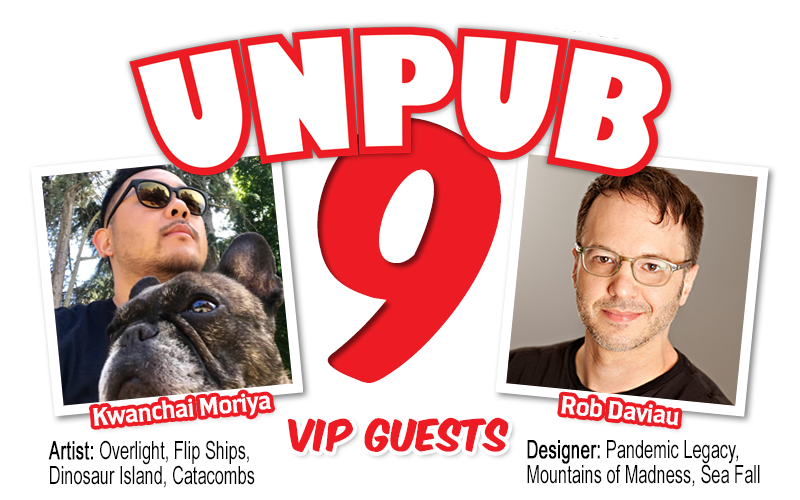 You guys need any help?
Aren't you sweet? Why yes! Yes, we could use your help. If you want to volunteer, all you have to do is fill out this volunteer form.
You will be representing the Unpub Organization. The expectation of you is to adhere to the Unpub Attendee Policy. By agreeing to be a volunteer, and by filling out this form, the understanding is that you have read the Attendee Policy. Once the application closes, we will contact you via email with a link to sign up for specific duties on specific shifts. This will be no later than March 19, 2019. If you have any questions, please feel free to email volunteers@unpub.net or inbox us on Facebook!
That's about it!
Thanks for attending Unpub. We literally couldn't do it without your support!